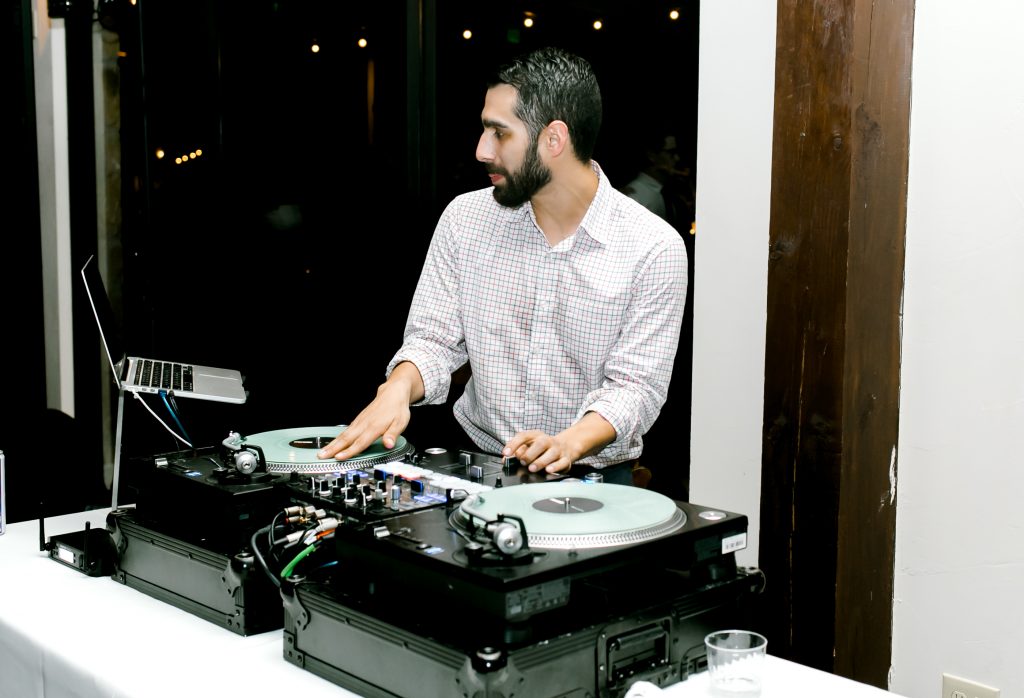 "How much do you charge?"
One of the main reasons people go to the Austin Bridal Extravaganza is to get an idea of the price range that certain wedding vendors will charge. Understandably, one of the first questions people ask me as a DJ is always, "How much?"
But I'm sure some people are also asking right now, "Why not just Google it?" Try it if you want, but you will soon find that most DJs and wedding vendors do not list their prices online. Which is a big reason why people find value in going to the Extravaganza, because its the quickest way to get pricing and package information from vendors (and hopefully some deals as well). So why don't DJs list their pricing and what is the range of pricing even like?
In order to save time for my future brides and grooms getting married in Central Texas, here is what you need to know about the price range of wedding DJs. You will find that review websites list their DJs in order of dollar signs ($), so I'm gonna break down essentially what you are paying for at each price range – from $ to $$$$ ::
[$]
(Free-$500) You will find DJs in this category on craigslist, the first page of Google search (advertisements), the friend or club DJ, and even some big vendors with a DJ option at the Bridal Extravaganza. They will list their prices everywhere because they know few others list theirs, because as they say, "they have nothing to hide." However, that also means these DJs are also doing the quantity over quality method for getting weddings, treating your wedding on the day of as such. Also, some DJ vendors will charge you $$$$ and then pay your DJ $ this much (which will leaving your DJ caring about your wedding just as much). Not to knock these DJs because everyone has to start somewhere, but BUYER BEWARE! These are usually the stereotypical/cheesy wedding DJs and usually the DJ horror stories you hear from other weddings. These DJs usually lack experience (DJed few to zero weddings), lack quality equipment (questionable speaker quality and shoddy microphones), actual DJ equipment (no turntables, playing all music off laptop only using iTunes or Spotify), or a good track record (negative online review history, or (deleted) reviews online). With the DJ usually in control of the music,microphone, speakers, sound, and MC/Hosting/Coordinating the day of, there are a lot of things that can go wrong and only one chance to do it right. I only recommend this budget when the wedding is smaller than fifty people and no dancing is expected, in this case I recommend just renting speakers and playing off pre-made playlists.
[$$]
($500-$1000) This is the range that people think of as "reasonable" or "affordable", because it is usually the range that first comes to mind when people think of paying someone to DJ their wedding. A majority of DJs advertise their prices as starting at ($500-$1000) because of this exact reason; however it will be the last of openly advertised prices you will find.  The biggest difference between the $ and $$ level is that these DJs usually have a bit more experience DJing at weddings under their belt. In all honesty, you can find some hidden gem DJs here in at this price range, however just as with the previous group, they usually lack a solid back up plan. For example, what happens if they can't make it to the wedding, their laptop crashes mid ceremony/reception, their speakers blow a fuse, the microphone isn't working, or they forget DJ cords and cables? Other DJs in this category are club/bar DJs who are asked by regulars, but usually do not have proper business licensing and required venue/equipment liability insurance. The final group of DJs in this price level are the ones includes in packages with other "one-stop shop" vendors (included with photography, photobooth, lighting, etc), or included with your venue package deal. The biggest issue here is that these DJs usually only have average to below average typical DJ skills, equipment, or coordinating abilities. Furthermore these package DJs are sometimes switched out or assigned last minute before the wedding, which results in miscommunication and increases the chances of something important going wrong. Finally, the biggest difference between this group and the next will be their overall music library and music knowledge/selection. As with this and any category, some DJs will not know what to play or straight up refuse to play certain genres (Country, Hispanic, Oldies, etc.) that don't fit with their stereotypical set that they play at every wedding.
[$$$]
($1000-$2000) This is the average price range for a professional wedding DJ who can perfectly rock a wedding from start to finish is around $1500. You will usually not find their pricing online because they want to explain to clients their packaging system or explain the value versus the cheaper DJs. Nonetheless, going with DJs in this category is a guaranteed dance party because they know how to plan/coordinate the dance party and read the crowd perfectly. Although no DJ is created equal, (i.e. puts on the same type of show) these DJs usually have years of experience, a back up plan for everything, quality equipment, and great music selection. Not all of these DJs use turntables/DJ controller, but most of these DJs are either full time DJs or just great experienced wedding DJs/MCs who have years of 5 star reviews from previous clients online. These DJs are playing good music and not relying on playing the Chicken Dance or the Macarena to keep people dancing. In addition to playing good music and keeping the crowd on the dance floor all night, DJs in this category is their charismatic ability to MC, host, and essentially day-of-coordinate the flow of the entire event. These DJs help make the event stress free for the bride and groom by creating a DJ day-of timeline, having a personalized music selection process (must play/do not playlists), and a backup DJ on standby.
[$$$$]
($2000-$4000(+)) The higher end of the spectrum for professional wedding DJs. Just as with the previous category, these DJs will not advertise their pricing – in hopes of not scaring off anyone looking at prices alone. The biggest difference between this and the previous level is that these DJs have a reputation to impress guests, are highly personally requested, or are charging for extra time/services (full coordination, lighting, speaker systems, etc) than the average wedding. DJs in this category have been working with fellow wedding vendors in the community for years, (and doing an amazing job) have hundreds of weddings under their belt, have countless perfect online reviews, and most likely they are first recommendation on venue and vendor preferred/recommended DJ lists. DJs in this category usually only use real vinyl, vinyl turntables using Serato, or customized DJ equipment using Ableton. Hands down though, DJs in this category should leave your crowd saying that was the best DJ/wedding they ever saw and leave your guests shouting "ENCORE!", or they didn't do their job right. A potential negative of this category is that some DJs will include a superfluous lighting rig/TV system, but put on the dance party of a $$ level cheesy wedding DJ. Side note; Wedding cover bands begin around this amount and the top ones go up to around $15k. Keep in mind that the biggest benefit of a DJ over a band is the range of song selection a DJ will have vs a band and their ability to play the best parts of the song, and then keep the party going with the next dance hit. Don't get me wrong, cover bands are cool too, it just depends on your personality and personal vision for your own wedding.
No matter what DJ or entertainment level you budget for, take the time to do your research and plan almost a year in advance to get the vendors of your choice before they are all booked up. If you just started planning your wedding, perfect time to read my Top 10 Wedding Planning Must Knows!